Recruiting new students. It's your life. Outside of academia, it's called "lead generation" or "lead gen" for short. And there are lessons you can learn from it. So, how is the lead gen outlook shaping up? And how will it inform your marketing strategy to recruit new students?
Over two-thirds of high-tech marketing professionals (68%) say lead generation is their top marketing priority this year and 74% cite social media as among the top emerging marketing channels for lead generation in 2010 and beyond, according to a Unisfair survey slated for release in late May.
In addition, 39% of surveyed tech marketers cite virtual events as one of the top emerging channels for lead generation in 2010 and beyond, and 34% cite mobile channels.

Among this year's other marketing priorities are brand awareness (cited by 17%) and customer retention (16%).
Below, other findings from The Future of Tech Marketing, which surveyed 500 high-tech marketing professionals on their marketing priorities for 2010 and beyond.
Lead-Generation Spending
Most tech marketers plan to increase investments in websites (69%) and email campaigns (63%) in 2010, followed by physical conferences and tradeshows (40%), online advertising (38%), and paid search (33%).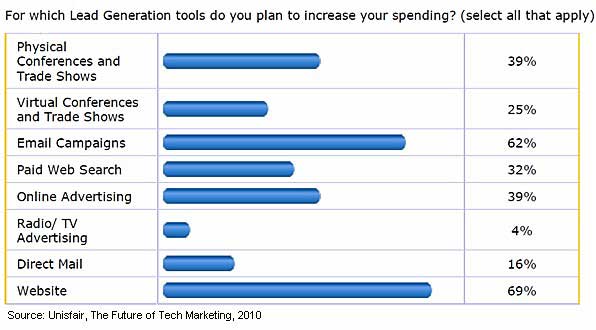 Some 25% also plan to increase spending on virtual business events.
Regarding spending on physical conferences and tradeshows, tech marketers are mixed: 44% say they plan to decrease spending, while 39% plan to increase spending.
Other lead-generation tools targeted for budget cuts are direct mail (32%) and radio and TV advertising (28%).